State of NetAffair
Hello World
2 September 2013: Our prototype "NetAffair - The WebProject" finally sees the light of day. Congratulation to the whole team! We hope you enjoy. Take a look, read and discover!
Inaugural Queen Elizabeth Prize for Engineering
18th of March, 2013: It's new and we just received the information, that Louis Pouzin, Bob Kahn, Vint Cerf, Tim Berners-Lee and Marc Andreesson are the first to receive it: the "Queen Elizabeth Prize". Guess, it's the first time all five are together in the spotlight and are honoured for their innovations. There is also a video about the announcement, and NetAffair merrily says: Congrats to all of you!
Time for Good News
23rd of January, 2013: We had a chance to meet and talk again with Hermann Steinringer, who was involved in rolling out networking infrastructure in Austria. We even got a gift: A plaque with cables, which shows the transformation from copper to fibre. Thanks for that! Looking forward to learn more from him about the challenges he faced by connecting Austrian academies and libraries.
In an earlier interview Hermann Steinringer (together with Michael Haberler, co-founder of Eunet) told us how the Technical University and University Vienna got connected. At the time being the weight of modems was around 20kg, and had to be fine tuned every week ...
Coming soon again: A short audio snippet about the beginning of data communication in Vienna.

Hermann Steinringer recalls Datenfernübertragung
Concept Phase
Digging our archive by keeping following questions in mind:

> What was the problem to solve?
> How did they solve it?
> What was it good for?
> What stayed the same?
> Who was in favor of what?
> Who spoiled the process and why? (well, as European you can't leave that out)
> Lost ideas?

Let's see if that can be of help to bring the bigger picture to the surface ...
if you have any question to add, don't hesitate to get in contact with us via email or twitter
Sad News
11th of November, 2012: Louis Pouzin informed us that Hubert Zimmermann died on the 9th of November. Hubert Zimmermann was member of the Cyclades team, and chaired the OSI Architecture Committee, who formulated the OSI Reference Model. Hubert Zimmermann was member of IFIP WG 6.1 and received the SIGCOMM award 1991 "for his 20 years of leadership in the development of computer networking and the advancement of international standardization". On the 14th of July 2005 our member Mariann Unterluggauer had the chance to meet and to talk to him.
In memoriam Hubert Zimmermann:

What else do you want to know?, a short radioplay
(Hubert Zimmermann tells how he came to computer networking in 1966, why he didn't leave Paris, talks about Cyclades, his time as chair of the OSI Architecture Committee at the International Organization for Standardization (ISO), and why a stronger support of the TCP/IP community at ISO might have made a difference in the late 1970s, early 1980s.)
Kick-off meeting "NetAffair – The WebProject"
26th-27th of October, 2012: The whole team of NetAffair met the first time in Vienna at the workspace of our partner sensomatic. Florian Koch (takes over the lead of grafic, interface & navigation) as well as Christian Langreiter (responsible for the beauty of code and its usability) joint our team. A warm welcome, and great to have you on board! (Even both have supported us for a long, long time already. Now that is offical, too.)
Pretty soon we will transport this site to a different server and change the outline, as with our sponsors on board we are no longer forced to stay in a static state, but take off. Be assured: That really feels good!
NetAffair signed contract with nic.at
15th of October, 2012: Even more good news. We are proud to announce that we got funded by the Austrian registry nic.at for "NetAffair – The WebProject". Nic.at supports us also to bring our archive online, which holds well over 10 years of research and lots of interviews with – as we like to say – the original voices of the net.
Together with our supporting partners since the beginning, namely ACOnet and Vienna Internet eXchange (VIX), we are finally set to start our endeavour to bring the orginal ideas of the Internet back to the surface.
NetAffair receives funding by Internet Foundation Austria (IPA)
Done in Vienna on the 9th of October, 2012: We are proud to announce that we just signed the contract with IPA. "NetAffair – The WebProject" is one of the winners of IPA's call "netidee 2012 – powerful innovations". NetAffair, and 20 more out of 122 proposals were selected by the board of netidee as "a winner". Thank you very much!
Join us and celebrate with us the good news on the 22th of November at the "netidee best of event" in Vienna (ATTENTION: You need to register until the 16th of November".)
NetAffair at SIGCIS in Copenhagen
7th of October, 2012, Copenhagen, Denmark: Mariann Unterluggauer was invited to talk about Project "NetAffair – Europe has a story to tell" at the annual workshop of the "Special Interest Group on Computers, Information and Society of the Society for the History of Technology" (SIGCIS).
We are proud to anounce that her paper received the "2012 University of Wisconsin-Milwaukee Social Studies of Information Travel Award".
To join the SIGCIS workshop was especially of interest as it offered the possibility to team up and to exchange findings and ideas about how to cover networking history with people in academia, especially with Andrew Russel (Stevens Institute of Technology, USA), who talked about the difference between "the history of the Internet" and "histories of networking", and Valerie Schafer (French National Research Council (CNRS), Institute for Communication Sciences), who presented her study on Appropriating, Governing and Using the Internet in Europe, in which she and her colleague put special emphesis on the role of NRENs.
Europe has indeed a compelling story to tell
7th of September, 2012: A little write up of European internetworking history published over at the blog of Neelie Kroes, in order to inform her crowd about networking history. Kindly Vint Cerf left a note ...
2011
The Conference – delayed
September 2011: After failing on the evaluation front for the EU's Seventh Framework Programme (FP7), and lacking sufficient financial support, we have to announce that "NetAffair – the Conference" will not take place in the near future. Many thanks to those of you who believed in NetAffair and have supported us right through. Unfortunately, despite all efforts, we couldn't overcome the necessary financial figure. If you would like to foster the project, take a look at our sponsoring options.
However, we haven't entirely given up hope. We disagree with the notion that it will take yet another generation to understand what networking is all about. Instead, we hold to the fact that there are people around, who can bring far more inside as a just digital grown up. The reason for this assumption is simple: There are characters out there who once laid the foundation for internetworking and who can bring to the table over 40 years of experience in internetworking and digital lifestyle. Their stories need to be heard; and Europe needs to listen to them as in order to make a difference, it is of extreme value to know how many proposed "new" ideas actually can be traced back in time, and what visions have been given up in the past and for what reason.
There is more as apps and cloudyness
Europe already offers a rich tapestry of knowledge, which can help to identify the beef of networking. Although history never repeats itself, underlying patterns do exist and can be identified, and lessons can be learned. We argue it's wrong to talk just about "apps" and "the cloud" while ignoring the underlying infrastructures and physical properties. They determine the behaviour of users as well as of networks, and therefore shape the process. After more than 40 years of packet switching and computer communication the time should be ripe to identify the big picture.
As we were told by team members of Project Cost 11, who have been in charge of setting up the first pan-European experimental science network, the most important lesson for Europe is the following: If Europe ever wants to be a major player in this field then it must act for once united as EUROPE.
With the right structure in place the European Digital Agenda might provide a chance, yet it also could merely lead to repeated mistakes, or be (mis)used for re-implementing (dare I say it) solely "command and control" structures. We can either wait and find out in hindsight, or we can try to decipher the signals we receive.
We also want to stress that networking history should by now be seen as part of our European cultural heritage. Knowledge of its emergence and process should be seen as an important part or our culture, and should be preserved. It has shaped many life stories at a personal level. Furthermore, many people are searching for role models, who represent today the idea of Europe. We argue: You don't have to drill deep to find them in the domain of computer networking.
NetAffair in Bozen: what's behind networking
23rd-24th of March, 2011: Dieter Telfser holds an expert workshop at the Gutenberg College of further Education for Trade and Graphic in Bolzano. Aaron Marcus (Am+A) agreed to join the discussion remotely on the second day. Students attended to learn about the emergence of different ideas in data networking, and to discover their own visual language in order to display the process. They were surprised to hear that even Europe has a story to tell in this truly global affair.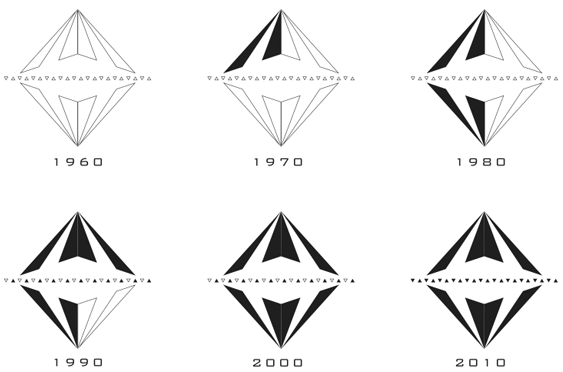 2010
20 years TCP/IP in Austria, 20 Years of NREN ACOnet infrastructure
9th-10th of June, 2010: NetAffair supports the two days anniversary celebration, hosted by the University of Vienna in June 2010. Back on stage are early Austrian Internet players and adaptors. The second day of this special gathering examined the current state of networking affairs while encouraging visions and ideas for the future of National Research and Education Networks (NRENs) in Europe; outline provided by Christian Panigl (ACOnet, ZID), conducted by Mariann Unterluggauer (NetAffair).